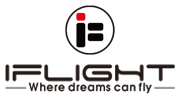 iFLIGHT Chimera4 4S LR BNF with Caddx Vista / Nebula Nano Digital HD System
₹19,999
Out of stock
Notify me when the item is back in stock.
Only logged in customers who have purchased this product may leave a review.
Related products
ATOMRC Fixed Wing Mobula 650mm Wingspan FPV Aircraft RC Airplane KIT/PNP/FPV PNP  Description: Brand: ATOMRC Fixed Wing Model: Mobula
The ATOMRC Dolphin 845mm Wingspan FPV RC Airplane is an EPP molded wing, embedded with carbon fiber tube, durable and lightweight.